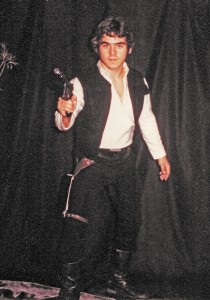 Me as Han Solo in 1977.  This picture was at a Halloween party held in the basement of the parents of my best friend, Rudy Linke.  He and I had just graduated from Amundsen High School in Chicago and were in the process of starting our lives over as legal adults.  Rudy had enlisted in the Air Force and would be shipping out in mere months.  I had started taking classes at Mundelein College, majoring in communications.  Our friend Marc Lupescu had taught me how to sew and, with his guidance, I created this costume.  Marc was a machinist by trade and fabricated an amazingly accurate replica of Han Solo's pistol, seen here.
Rudy and I, along with a hand full of friends from school, had, in 1974, created a Star Trek fan club, there being no existing club in the city to join at the time.  It was called, "Starfleet Command," and it became the largest independent Star Trek fan club in the world.  Despite that enthusiasm we were utterly blown away by the premier of Star Wars in May of that year.  Several of us created costumes modeled after characters in that film, which were worn for this party, at conventions such as MediaWest*Con, and other events.  We were doing Cosplay decades before Cosplay became a thing!
This was a significant event at the start of my adult life which I remember quite fondly.