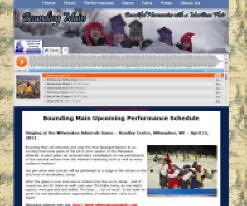 International Vocalists and a lot of fun, Bounding Main projects happiness and musicality in their web site.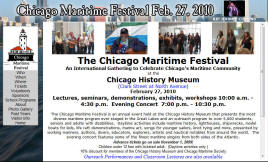 The Chicago Maritime Festival was a gathering of nautical enthusiasts, experts and performing artists from all over the world.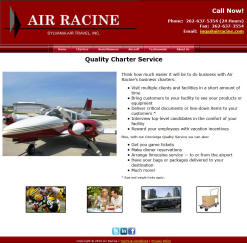 Air Racine is a custom charter operator that provides business, personal and freight charters.

I have worked with many independent artists and small to medium sized businesses on their web sites. In many cases I design them to be self-sustaining by setting up the customer with a new site and software that allows them to update their calendars and news items. This allows them to keep their site current without incurring the additional expense of hiring me to do this work for them. I keep myself available for consultation: usually image updates, creation of new pages and other complex items. My pricing is very reasonable and my clients are always happy.

It is totally unfair, but today most consumers and buyers judge a company by their web site, which has NOTHING to do with the quality of goods or services. Take advantage of this by having a great web site!